Best Weight Bench for Home (Updated 2021)
Best Weight Bench in 2020 for Home Dumbbell Workout!
Working out from home is a great way to stay in shape. Canceling your gym membership can save you loads of time and once you have your equipment sorted out, you'll see savings in your pockets too. Of course, working out at home means you can be slightly limited in the number of exercises you are able to do. Gyms generally have all kinds of specialist equipment designed to hit your muscles in a huge variety of ways.
Our TOP Pick
If you're low on time or just want to skip the whole guide – Bowflex SelectTech 3.1 is our top pick. You can find it on Amazon.com here.
It is because of this that when I started working out from home, finding and buying the best weight bench was one of the things I put at the top of my to-do list. And I know, I know that if you add it to the adjustable dumbbells pair and storage racks – the total price can really sky rocket. But then again you will never ever have to worry about these things anymore.
Now, I do warn you – this will be a pretty long article, so if you're in a hurry. You might want to just look at this recap table. Other than that – I think this article will really help you and I advise you to read it through before settling on a specific product.
PICTURENAMEMAX WEIGHTFEATUREOUR RATINGAVAILABLE
Bowflex SelectTech 3.1 Adjustable Bench300 lb4 positions5
Rep Weight Bench1000 lbTested at 1,000 lbs
Sturdy bench with a 2.5inch pad4,9
Weider Pro Bench300 lb4-roll leg lockdown
Incline/decline positions3,9
Marcy Utility Flat Bench300 lbsComfortable foam
Budget flat bench that's perfect for beginners4,7
Universal Weight Bench430 lbsFive positions4,4
CAP Barbell Deluxe Bench400 lbsHigh density seat
Made from steel
Foam rollers3,7
Body Champ Olympic Weight Bench300 lbsCompatible with most 6' and 7' weight set bars4,3
CAP Barbell Flat Bench300 lbs4 positions3,7
Marcy Multi-Purpose Bench400 lbsUnique design
Compact3,7
Bowflex SelectTech 5.1 Adjustable Bench400 lbsSix different positions
Good quality frame
Warranty to 15 years4,5
What can you do with a bench?
Buying a weight bench allows you to do so much more with your workout and means you can get as big and as strong as you would if you were working out in a gym. It is very hard, for example, to do a satisfactory chest workout without an adjustable bench. With one, however, you can do chest exercises such as bench press, dumbbell flyes and incline presses.
As well as for chest exercises, owning an adjustable weight bench will help with shoulder exercises such as the seated shoulder press, back exercises like the dumbbell back flyes row and leg exercises like the plyometric box jump. Basically buying a bench will allow you to complete a variety of full body workouts and help you reach your fitness goals.
What to remember when choosing best weight bench for home?
There are two types of bench that you can buy. The first is a flat bench and the second is an adjustable bench. While both types of bench will seriously increase the number of exercises you can perform, there are slight differences in what each bench can do.
A flat bench is the most tried and tested of all benches. While it may not have an adjustable back it is likely to be the most comfortable exercise for flat exercises. They are usually good quality, fairly padded, and often come with adjustable legs so you can get the height of the bench perfect for your body type. You can often buy a better quality flat bench for the same price as a lower quality adjustable one.
An adjustable bench allows you to move the angle of the bench. This allows you to do more exercises, for example, incline/decline bench presses. This means you can target muscles that the traditional bench doesn't reach quite as effectively. Some people though think that when doing a flat bench press the adjustable bench isn't quite as comfortable as when doing it on a standard bench.
So which is the best home weight bench?
If you are a beginner then it isn't quite as necessary for you to be doing incline and decline exercises so a flat bench could be the way to go for example Marcy Flat bench (see on Amazon.com).
If however you are looking to take your workouts up a notch and, then adjustable bench will be the best fit for you – for example Bowflex Selecttech (check on Amazon.com), it may be a little on the expensive side but you really get what you pay for.
One key thing to keep in mind is the amount of weight you will be lifting. All the weight benches in this weight bench review have a maximum weight that they are safe to use with. While some have a 1000lb limit that will be safe for pretty much anyone, some of the budget options only have limits of 300 or 400lbs. If you are a seasoned lifter or are looking to work on your one rep max, these benches are unlikely to be best for you.
The Top 10 Best Workout Benches
Rep Weight Bench
This is a solid bench from Rep Fitness that has been tested at up to 1000lbs. This means even the strongest guys out there should have absolutely no safety concerns. It is a sturdy weight bench with a thick 2.5inch pad which gives you comfort without losing stability. This will also help you push through when lifting those heavier weights.
Assembling this bench is easy. It only takes around fifteen minutes meaning you will be ready to go with your workouts in no time whatsoever. This bench is built to the standards set by the International Powerlifting Federation (IPF) which means it will be the perfect flat bench for any level of lifter out there.
You can purchase it here on Amazon.com<—-
Any downsides?
This is a very good quality bench and as such is slightly more expensive than other flat benches. If you are still a beginner lifter then being tested at 1,000lbs may not be necessary for you so a cheaper one could be an option.
As this is a flat bench it doesn't offer the option to adjust the angle of your bench. This means you won't get some of the benefits of an adjustable bench.
Conclusion
To put it simply this is a very high-quality bench that can be used by even the most advanced of lifers. If you don't mind the extra few dollars and you don't need an adjustable back this could certainly be the best workout bench for you.
Marcy Flat Weight Bench
This is a budget flat bench that can be used to build muscle, flatten your abs and burn fat. It comes in a fairly standard size of 44 by 13.5 by 4 inches. As a budget bench, it is perfect for someone who is just getting started with working out at home and who don't want to break the bank. The foam upholstery offers comfort and support while the black finish means it is a stylish looking piece of kit.
Despite its price, this is a fairly solid bench and assuming you put it together correctly it should not wobble or give way while you are working out.
It is also a light bench meaning it is easy to move around and store while not using. This is especially important for people without a dedicated workout space.
Downsides
As this is a cheap weight bench it does not have the weight capacity of some of the more expensive benches. The maximum weight you can use on this bench is 300lb, which includes the body weight of the person using it. If you are a more advanced lifter this is unlikely to be enough to support your weight and what you will be lifting.
Conclusion
Its cheap price makes this the perfect bench for those who are just starting to lift. Advanced lifters who can move heavier weights should probably steer clear, however.
CAP Barbell Deluxe Bench
This CAP Barbell bench is a full sized adjustable bench, it can be used with dumbbells or resistance bands making it perfect for use at home. It is made from steel meaning you know it will be solid.
The fact it is adjustable means it is possible to do exercises that a flat bench won't manage including incline presses. This bench also has an extra feature that allows you to use bands or tubing to work out. This means it is perfect for rehabbing your muscles or for senior strength training.
It has a fairly decent maximum weight of 500lbs which should be ok for all but the most advanced lifters.
Downsides
Some people have suggested that it is a little uncomfortable when used at certain angles. While the 500lb limit is solid, if you are wanting to max out your bench this isn't really the one for you.
Conclusion
This is a solid adjustable bench with a decent weight limit and a couple of nice extra features. While there are reports of it being uncomfortable in certain positions most people seem to have no problems when using this bench.
Bowflex SelectTech Bench – Best Value Weight Bench (!!)
This Bowflex adjustable bench is made by a company with more than 20 years experience with Gym equipment.
It is easy to see why as it is very sturdy looking, with a good quality frame and firm yet comfortable cushioning. The vinyl used on the outside is solid and easily wipes clean meaning you won't have to worry about durability.
In terms of usability, this bench is adjustable and can be used in 4 different positions. This gives you plenty of options for incline and allows you to hit your muscles from all angles. It is very easy to switch positions and everything seems to work smoothly. The bench has a respectable maxim weight of up to 300lb in body weight and 300lb in weights meaning that it will be ok to use for most people out there.
See how much it costs on Amazon.com<–
Any downsides?
This is a great bench. The only slight downside is that the seat is not adjustable so you can't tilt it up when doing an incline bench. This is a small matter however and most people should be fine without the option to tilt their seat.
Conclusion
This is a great bench! Unless you expect to be lifting very heavy +300lb weights or you know you specifically want a seat that inclines, this could be the best adjustable weight bench for you!
Weider Pro Bench
The Weider Pro 255 Bench is an adjustable bench available at a cheaper price than alternative products.
This bench can be adjusted into incline and decline positions which mean you can do a full range of exercises targeting more muscles in your body.
The bench is made from steel which means it is sturdy and it has a maximum user weight of 300lb and total weight limit of 410 lb. This should be completely fine for most beginners out there.
You'll be amazed how little it costs on Amazon.com<–
Any downsides?
As with any value product, this bench does not have the quality of some of the more expensive models. Changing position isn't as easy as on some benches, and the pads can be a bit uncomfortable. When in the flat position the lower section of the bench is also at a slightly uncomfortable angle.
Conclusion
This is a pretty cheap bench that offers an impressive range of angle options, it is also fairly sturdy. However, it isn't as comfortable as some benches and has some slight usability issues. Because of this if you can stretch your budget slightly it would probably be best to go for a more expensive model.
Before buying the product, don't forget to read full Weider Pro Bench review!
Body-Solid Bench
This is a solid bench with an impressive array of potential angles. In fact, it has 7 different available angles from a decline of -17 degrees to one that is almost upright. This means you will be able to do pretty much any exercise you want.
Unlike a lot of the benches on here, it comes pre-assembled and has the added advantage of being foldable. This means that when not in use it can be stored, near flat, under a bed or other similar location. This makes it perfect for people who struggle for space.
It has an attractive black and silver metal design and it feels sturdy when working out. The maxim weight is a solid 500lbs which should be enough for most lifters.
Any downsides?
There have been some concerns about the build quality of the cushions although there have also been examples of faulty ones being replaced quickly and for free.
Conclusion
This is a solid bench that offers all the functionality you would expect of an adjustable bench. The fact that it folds flat means you can easily tidy this away. This could be the best adjustable weight bench for people who live in smaller spaces.
PowerBlock Sport Bench
The Powerblock Sport Bench is one of the most expensive on this list, it is also a very good quality option for those that can stretch their budget.
The bench is very solid and sturdy. Perhaps the most impressive thing about its build quality is the lack of a gap between the seat and the backrest. This is a problem lots of cheaper benches suffer from so it is good to see they have managed to fix it. It is also easy to switch angles while working out and the padding on the bench is firm yet comfortable.
The bench comes nearly fully assembled and has wheels and a handle to help move it around. It has a total of five positions that it can move into, including a full 90-degree angle. This is fairly rare and means can you lift heavier weights when doing things such as a shoulder press. This bench has a 550lb weight capacity which should be fine for most dumbbell workouts.
Any downsides?
The only downside to this bench is that it doesn't have an incline position available as an option. If this is something you really need this is a problem if not this is a great bench.
Conclusion
This is a bench with the quality to match its slightly higher price point. If you are looking for a good quality adjustable bench this could be the one for you. Also, I have published a more in-depth powerblock bench review.
If you have any concerns read full PowerBlock Sport Bench review!
York Barbell Adjustable Fitness Bench
The York Barbell Adjustable Fitness Bench is a good bench available for a decent price.
It has good cushioning, a solid build and when used correctly no wobbling. It has wheels and a handle so it is easy to move and even has a place to rack up to three dumbbells meaning tidying up after working out should be a breeze.
It has the option to for a range of positions including 90 degrees which is a huge bonus. This is the only bench in its price range that has a 90-degree option meaning that it could be perfect for those wanting to do heavy shoulder presses on a budget.
Downsides
It doesn't have any decline option which can be a problem if that is what you are after. The maximum weight of 220lb user weight and 220lb in weight is slightly lower than some of the other options so if you are heavy or lift heavy weights this could be a problem
Conclusion
This is a good quality bench with plenty of options at a pretty cheap price. If you don't mind the slightly lower weight range and you don't need to incline this could be the perfect weight bench for you.
To get more information, read full York Barbell Adjustable Fitness Bench review!
Rep Adjustable Bench
The Rep Adjustable Bench is one of the most expensive on the list and the closest to the type of bench you are likely to find in your local gym.
It has a very good, solid build quality that means it is sturdy when lifting even the heaviest weights. The padding is thick, comfortable and well stitched together. As with the Rep Flat Bench reviewed above, this one has a long ten-year warranty on the frame that shows how confident they are in its design.
It has seven positions that range from an 85-degree incline down to a negative 20-degree decline. The seat also has multiple angles so you can make sure you are comfortable on every lift you do. The bench has a 1000lb weight limit, which means it will be sturdy enough for even the most advanced lifters.
It comes partially assembled and the rest of it is easy to put together. It is a heavy solid product and while not the most mobile of the benches on this list, it has handles and wheels to help you move it around.
Any downsides?
This bench is solid all round and there is really nothing to fault in terms of its usability or design. The only downside would be that it is more expensive than its closest competitor.
Conclusion
This is one of the most expensive but also one of the best benches on the list. It is solid, has loads of adjustable features. For those with the money to spend this bench is almost certainly the one to go with.
CAP Barbell Heavy Duty Utility Bench
The CAP Barbel Heavy Duty Bench is a budget bench with loads of options. It has both incline and decline positions so you can hit your muscles from every angle, as well as a simple locking pin mechanism that makes changing the angle easy. It has some foam rollers at the bottom of the bench to help keep your legs in place if needed. These can be used during ab exercises such as decline situps.
Any disadvantages?
While fairly sturdy it is a bit on the thin side of things so you need to make sure you are well positioned when working out. It has a maximum capacity of 300lb which is actually fairly low and unlikely to be enough for heavy lifters.
Conclusion
This is certainly not the best adjustable bench on this list although its low price point means that if you are on a budget it could be the one for you. The fact you can do incline, decline and flat means you are not limited in the number of exercises you can do.
Read also CAP Barbell Heavy Duty Utility bench review!
How to choose the best weight bench?
A weight bench is one of the most important pieces of fitness equipment in your home or at the gym. Usually, you don`t pay too much attention to it. The moment you really start to notice the bench is when there`s something you don`t like about it. To try and avoid this you need to go through some of the best tips to select the best weight bench for your needs:
Size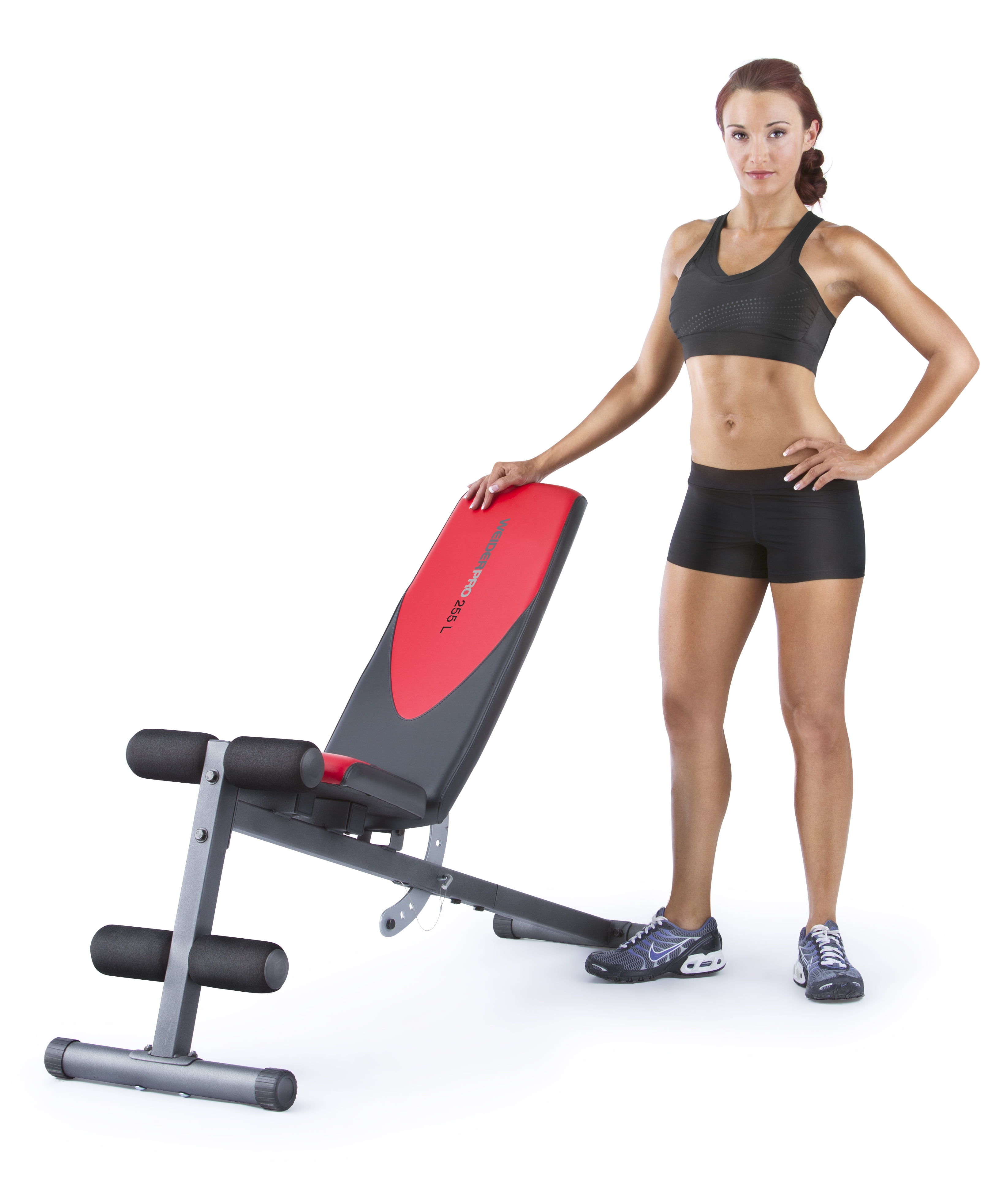 The size of the weight bench will largely determine the exercises you can perform. A larger bench might provide more stability but a smaller bench might be easier to move around. And this is where the main focus should be when you look for that perfect bench. It will be impossible to keep it fixed into a single position.
For some exercises, you need to move the bench either closer to a mirror or next to the Smith machine. Or you might just want to move it to another room for more workout variation. A solid bench needs to be maneuverable. Even if you choose a larger model, you still need to find one which is easy to move around even by other family members.
Angles are important
There is nothing more important in exercise variation than angles. So many of us are stuck doing the same exercises with the same angles and we often wonder why we don`t see any real progress. You constantly need to be challenging your body and changing a simple element like the exercise angle can have a positive impact on your routine.
Let`s take the simple bicep curls for example. The starting position of the exercise finds you sitting with your back upright and the dumbbells in your hands. You can perform this isolation exercise with your back against the bench to minimize cheating repetitions. In an upright position, the lowest point of your hands can find you with the elbows bent.(As in the video below)
If you adjust the bench to a smaller angle you will find bicep curls will increase in difficulty. The range of motion is now more pronounced and you have a movement which can be complete. This, in turn, will be great for muscle development as it will force you to perform the exercises with a full range of motion. At the beginning, you may also need to lower the weights because of the increased difficulty of the angled movement.
The durability myth
There`s something many people seem to put above fitness performance: durability. This doesn`t mean you need to choose a low quality weight bench. But you need to understand the bench has the purpose of supporting you and your fitness needs. This should come before the idea of keeping it shiny for years to come.
So how do you keep the right balance between the quality of the materials and durability?
It all comes down to your own needs. If you`re going to be the only one using the weight bench you can start focusing on other features also.
If your friends and family will also use the bench, then you need a product which is strong enough to support their weight and durable enough with the padding. Most weight benches come with a solid steel structure. The main difference can be in the padding and adjustability.
But because of the simple mechanisms, even lower-end benches can be durable enough for the average user. This means that you can start shifting your mind from finding the best bench to finding a product which will allow you to focus on performing the exercises in a correct manner. Here are some basic chest and triceps exercises which can be done on a typical weight bench:
The winner!
So there we go! That brings us to the end of our weight bench review. There are loads of good benches here and every one of them offers something, whether it is high-quality build, adjustable settings or an affordable price point.
While the best on the list is certainly the Rep Adjustable Bench, this is also by some distance one of the most expensive and there were a few mid-range options that function nearly as well. In terms of budget buys the Weider Pro 225 offers incline and decline and a solid weight limit for a low price so should certainly be considered if you are on a tight budget.
Whichever one you go for the most the most important thing is that you are lifting, getting healthy and working towards your fitness goals. Congratulations!
SummaryReviewer Paul SheldonReview Date 2016-07-05Reviewed Item Bowflex SelectTech Weight BenchAuthor Rating 5
Hey! My name is Paul Sheldon. I live in Nashville, TN and I love all things related to sports. Naturally I love workking out and I do it every day. If you want to talk feel freee to hit me a message or if you happen to be in Nashville we can get a coffee, I know a great place. Peace!