Marcy Adjustable Utility Bench Review
All people, without exceptions, want to see an ideal reflection in the mirror. But not all of them are making efforts to keep themselves fit.
If you are an exception, you train regular, hard and with a great pleasure, or simply want to stay fit and to keep your fitness at a relatively advanced level without leaving your basement, I want to introduce you to another opportunity – weight bench for home gym, and present you an incredible home trainer – Marcy Adjustable Utility Bench.
I decided to write this Marcy Adjustable Utility Bench review because I know a lot of amateurs that want to do their workout at home but simply cannot find an adjustable bench to do their moves on.
Of course, exercises on such a simulator cannot completely replace the trip to the gym, but you will be able to practice at the time convenient for you, and without regular financial expenses.
Features
First off, let's talk specs.
Product Dimensions: 49 x 17 x 7 inches; 55 pounds
Shipping Weight: 55 pounds
Adapts to fit most squat racks, half cages, and Smith machines Deluxe utility bench for working chest, shoulders, back, abs, and more
Deluxe boxed casing made of incredible, unique foam
back pad has 6-position that adjusts into flat, incline and decline positions
Who It's For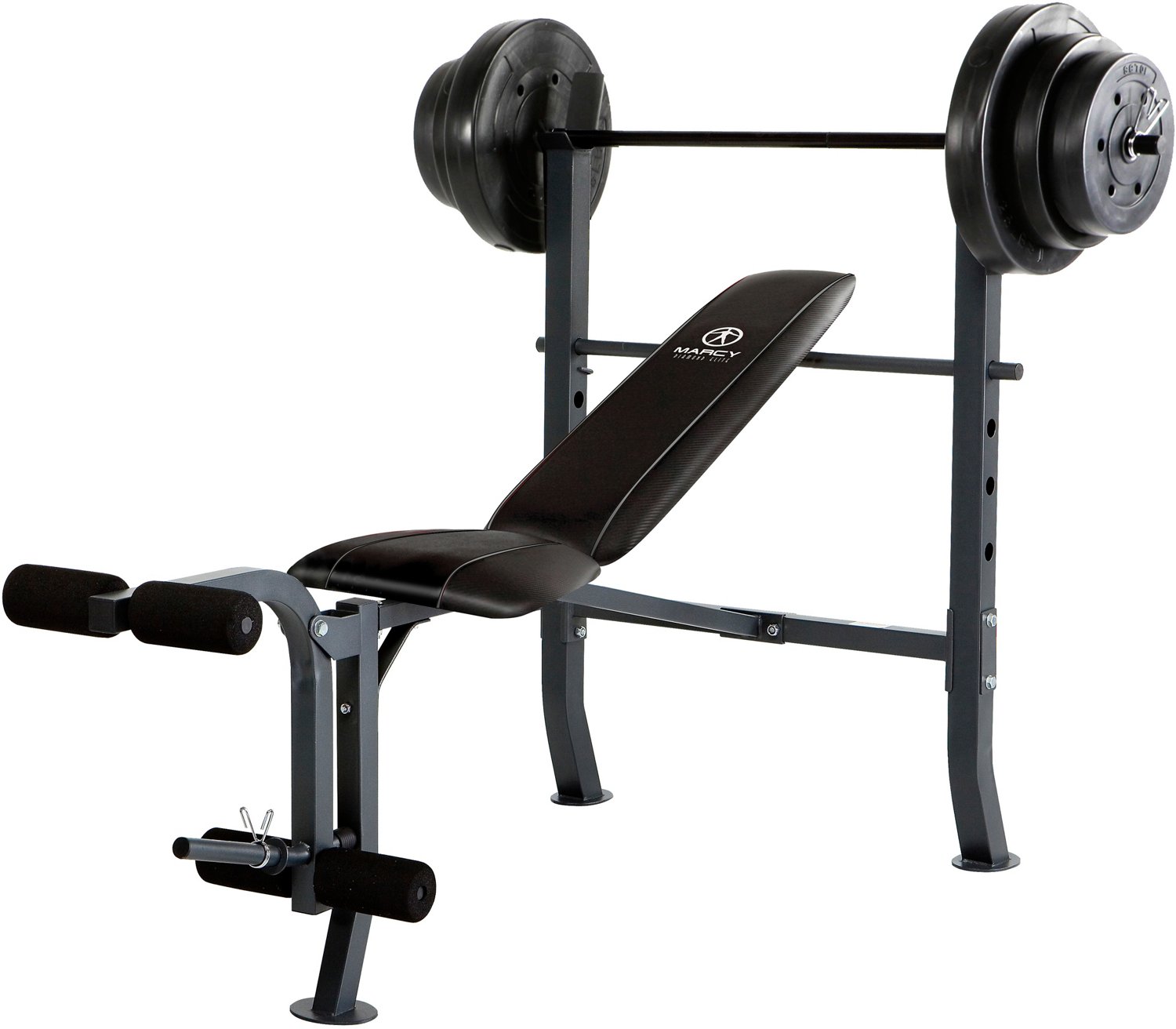 Marcy weight bench is considered as a favourite male training apparatus. The fact that a set of exercises with a barbell, dumbbells and bench itself can form the main reliefs of the male body, mainly muscles of the upper body.
Despite the fact that the simulator belongs to the category of home trainers, it is quite suitable for professional use.
By using Marcy weight bench set, you can perform the following exercises:
Barbell bench press;
Dumbbell bench press;
Twisting with the rise of the housing;
Leg rise;
Alternating Curls;
In combination with the Scott bench – exercises for biceps with dumbbells and barbell;
In combination with an attachment for legs – exercises on the hip and thigh muscles.
And this is not all the possible exercises, turn the imagination, use the internet and fill up your workouts with interesting exercises.
Click to see the price on Amazon.com <–
The Good Things About The Bench
The really cool thing about this bench is that it is pretty cheap.
All metal pieces are of stellar quality. It doesn't wobble after adjustments.  It does NOT have the foam leg/ankle holders coming off the end.
This is one of very few benches in this price category that can take the Decline position AND is able to angle the seat to match. The seat itself is nice and wide, stable.
The back is plenty long enough for someone 6′ tall, and perhaps even more.
What is more, the lion part of the weight benches in this price range can take 4 positions, this back wrest can be angled 6 different ways, and the seat can be angled three. Very adjustable.
The construction is very rugged/stable.
The Bad
The spring loaded pin that you pull to adjust the seat angle is somewhat tight, and I have to tap it with the heel of my hand to get it to go back into position. It is key to follow the instructions when they say not to firmly tighten bolts until you have everything put together. This helped the tightness somewhat
The manual was poor and they could draw the diagrams larger and clearer. The bolts and parts are laminated into a cardboard and some of the pieces popped out for me which may have scratched other parts.
Also the seat had a tear on the bottom but after installation you would not notice it. Another screw in the middle could be used in the back support.
Similar/Alternative Products
Bowflex SelectTech 3.1 Adjustable Bench

The bench is very solid. When bolting up the back lateral rail, have everything on a firm flat surface if you want to get both legs on the floor. There is a seat, seat back pivots that have plastic washers, they are in good conditions.
PowerBlock Sport Bench

All of the instructions were clear. You could buy this one weight bench if you do not have experience in installation such benches and well written manual would be useful for you. Here you can find all the instructions and will enjoy exercising with a new bench in some minutes. The choice is yours!
Check also our PowerBlock Sport Bench review!
Your Decision
This was my first fitness bench purchase and I am satisfied with the product. While not perfect, it was close, and is a super value for the money.
Honestly, though, you may need to look up a Marcy Adjustable Utility Bench assembly video or something to figure it out. However, of course, you can find something better, but certainly with a bigger price.
Hey! My name is Paul Sheldon. I live in Nashville, TN and I love all things related to sports. Naturally I love workking out and I do it every day. If you want to talk feel freee to hit me a message or if you happen to be in Nashville we can get a coffee, I know a great place. Peace!