What Are Olympic Weights exactly?
So what are Olympic weights, exactly?
There is no doubt about it – Olympic weights are more and more commonly mentioned nowadays. Some might argue that it was Crossfit that brought them back to life and to our home gyms, but it is a fact that people are including bars and plates into their workout routines even when exercising at home. Today, we are going to see what the Olympic weights are, what are the Olympic weight plate dimensions, and if they are the right choice for you compared to standard bars and plates.
The very beginning
First of all, let's clear the air when it comes to terminology. Olympic weights consist of weight plates and bars. The term comes from the Olympic Games where this equipment is used for weightlifting competitions (currently the disciplines are snatch and clean and jerk). The plates can be bumper (made out of solid rubber) and regular (made out of iron, sometimes urethane-coated), and the bar is a bit longer and thicker at the ends, but more on that later.
Hole size
A standard bar has a 1-inch diameter throughout its entire length, and the Olympic bar has a widening at its ends, after the bar's shoulders. The diameter there is just short from 2 inches so that the plates with 2-inch-wide holes would fit perfectly. Unfortunately, that means that you can't really use standard and Olympic weights interchangeably in your home gym.
Plate dimensions
All the plates are pancake-shaped, and the thickness doesn't vary all that much among the standard ones and Olympic ones. Given the wider hole, all of the Olympic plates are a bit wider in diameter than their standard counterparts. The only exception to this rule is a 25-pound plate, due to the difference in thickness.
Another important thing to remember is that Olympic weight plates are the only ones that are made in bumper fashion. Also, they are a tad more versatile, as they now come as grip-plates as well. That means that you can use them as a solid replacement for dumbbells or kettlebells when they are off the bar.
Bar lengths and strength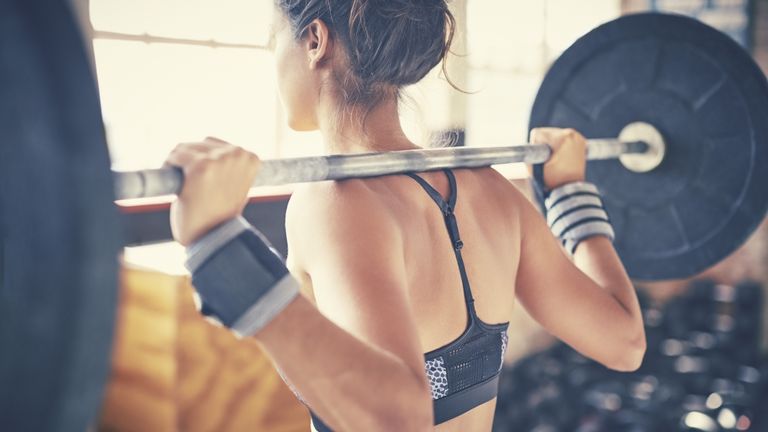 Hole size is important when it comes to your home gym assembly, but a wider bar doesn't necessarily mean that Olympic weights are somehow superior to standard ones. On the other hand, when it comes to strength and durability, the standard bar will definitely have to throw in the towel. We all have that one friend with a Facebook cover photo quote "If the bar ain't bending, you are pretending!", but in reality, bent bars can be a major nuisance when trying to execute your big lifts, mostly because of the asymmetry of the bend itself.
No added torque
There are some lifts in which Olympic bars and weights really excel. You have guessed it right – Olympic lifts. The thing is, there are more and more gym goers that would love to try out the snatch, the clean and jerk, or the clean and press (it's not an Olympic discipline anymore, but is still vastly popular).
These exercises are technically demanding, but they offer a great chance for overall strength development and prompt an amazing metabolic response. The trick with all of them is since we are giving momentum to the bar from the ground up in an arch-like motion, it tends to keep on rotating in our hands, which is always a bad thing when handling big loads, especially overhead.
Olympic bar, however, has rotating parts past the bar's shoulders which render this whole problem mute. Also, these exercises are meant to develop your strength and explosiveness, so they don't really have the eccentric portion of the movement. In other words, you should let the weights hit the floor from an overhead position or you might end up hurting your lower back or risking shoulder impingement or a rotator cuff tear. And when it comes to plate-dropping, bumper plates are a lifesaver, trust me.
Summary
So to sum up, Olympic weight sets are quite similar to standard ones, but with wider holes on the plates, heavier and longer bars, rotating end parts and bumper and grip-plate options.
It would sound like a clear win for the Olympic weights? Well, yes and no. I do love them, and would always prefer them to standard weights, but we have to keep in mind that Olympic set is usually more expensive. Also, not all of them are of the best quality like it used to be the case before.
The take-home message here would be: If you can – go for the Olympics. If you can't, don't sweat it, the standards are fine just the same (most of the lifters started with them anyway). If you bring you're A-game, plan your workouts carefully and leave everything you have in the gym, the results will surely follow. So stay strong, and go heavy.
Hey! My name is Paul Sheldon. I live in Nashville, TN and I love all things related to sports. Naturally I love workking out and I do it every day. If you want to talk feel freee to hit me a message or if you happen to be in Nashville we can get a coffee, I know a great place. Peace!